This page was last updated Mo 11 September 2023.
Pages most recently added
Contents: Tours (1177) Trails (37) Sites (3) Cycling info pages (46) Organizations and clubs (8) Nongeographical bicycling information (16)
Pages: Previous 1-40 &nbsp 41-80 &nbsp 81-120 &nbsp 121-160 &nbsp 161-200 &nbsp 201-240 &nbsp 241-280 &nbsp 281-320 &nbsp 321-360 &nbsp 361-400 &nbsp 401-440 &nbsp 441-480 &nbsp 481-520 &nbsp 521-560 &nbsp 561-600 &nbsp 601-640 &nbsp 641-680 &nbsp 681-720 &nbsp 721-760 &nbsp 761-800 &nbsp 801-840 &nbsp 841-880 &nbsp 881-920 &nbsp 921-960 &nbsp 961-1000 &nbsp 1001-1040 &nbsp 1041-1080 1081-1120 &nbsp 1121-1160 &nbsp 1161-1200 &nbsp 1201-1240 &nbsp 1241-1280 &nbsp 1281-1287 &nbsp Next
Tours (continued)
Paradise Lost? A Return to North Queensland




tour started June 2001

,

submitted 5 July 2006




Tony was recuperating from major surgery to replace a faulty valve in his heart and felt the need to be some place warmer than Adelaide in a cold and wet winter. It had been nearly twenty years since David had returned to Far North Queensland where he was born and where he had spent his early life. These two old farts left their partners in the cold and flew off to the tropical paradise for a few weeks of sun and relaxation.
Hanoi and Highway 1 from Hue to Saigon




tour started December 1997

,

submitted 5 July 2006




We felt that we were prepared for our trip to Vietnam. We had read lots of guide books, stories of the wars and the peace and novels by Graham Greene and Marguerite Duras. Lesley had spent a year trying to come to grips with some of the intricacies of the Vietnamese language and its pronunciation. We had talked to other people who had cycled in Vietnam. We didn't expect to be surprised. The immigration police lived up to their reputation for being rude and abrupt but everyone else was so friendly and helpful that it was almost embarrassing. Only a relatively short time earlier our country had been involved in a bloody war with these people and they were welcoming us with open arms. It took us by surprise.
A Meandering Ride from Gmund to Prague




tour started June 2004

,

submitted 5 July 2006




We turned off the road onto a very steep up and down track which took us through the forest and past a large dam. At first the path had a concrete surface and the water was running down it in a continuous stream. After we had passed the dam, the track deteriorated into soft sand and was unrideable for much of the way. Eventually, we struggled into Velesin. There was plenty of evidence that they had been hit by a heavy storm and many people were busy pumping water from their flooded basements. That night we saw on television that the area just south of here had suffered flash flooding, trees blown down and major power cuts as a result of the storm. Luckily, we seem to have been skirting the edge of the storm for most of the day and missed most of the rain and winds.

It rained every day of our tour but only for a short period at a time, so we had plenty of time to enjoy the beauty of the country and the attractive towns and cities.
Cycling the Danube from Donaueschingen to Vienna




tour started May 2004

,

submitted 5 July 2006




The Donauradweg is one of the most popular cycle touring routes in Europe. Thousands of people ride on the bike paths along the Danube each year. Even grandparents and young school children do it. So popular is the Austrian section of the route that during the summer holiday period, Austrian railways run special bicycle trains to carry people to and from the start and end of their ride.

So why would we want to join the crowds and cycle from Donaueschingen to Vienna?

The answer is simple. This is one of the most pleasant and enjoyable cycle rides anywhere. Picturesque old towns and villages, dramatic castles dominating the skyline, spectacular gorges, delightful forests and a beautiful river. All of these combine to make this a cycle tour to remember.
Cycling in Fyn and Sjælland




tour started July 1999

,

submitted 5 July 2006




We had been cycling for over two months when we arrived in the village of Svogerslev near Roskilde to visit friends. We were ready for a break from our daily routine of breaking camp, loading the bikes, riding to the next night's destination and then pitching the tent again. A few days in an attractive old house with views over the gently rolling countryside were just what we needed. We felt refreshed and ready to hit the road again. With its numerous marked cycling routes and relatively gentle terrain, Denmark is an ideal place for a easy cycle holiday and the islands of Fyn and Sjælland are quite delightful.
Wienerbrød Days - A Danish Cycle Tour




tour started August 1995

,

submitted 5 July 2006




I stopped a few metres before an intersection and was busy peering at the map when I became aware of a number of cars stopped beside me with their indicators flashing. Six cars were patiently waiting for me to proceed so that they could give way to me at the intersection. I made certain that in future I stopped well away from intersections when I wanted to check my map. Danish motorists are extremely courteous towards cyclists. They do have a legal obligation to give way to cyclists and pedestrians at intersections, but it is much more deeply ingrained than that. It is something that is taught to every Dane from an early age.

With its numerous marked cycling routes and relatively gentle terrain, Denmark is an ideal place for a easy cycle holiday.
Cycling the River Inn from St. Moritz to Passau




tour started June 1999

,

submitted 5 July 2006




We left St. Moritz and dropped down the gorge to Celerina. From there we rode through lush green meadows and on smooth paths by the river. It was Saturday and there were lots of people out on their bikes enjoying the warm, sunny weather. Everywhere, there were 'Chocolate Box' views of snow covered mountains, picturesque villages with cows grazing in the wildflower strewn meadows.

With the source of the river at approximately 1,800 above sea level and its mouth at Passau only 313 metres, it was reasonable to assume that this ride was going to be down hill. Well, more downhill than uphill. When we reached the village of Zuoz, the track climbed steeply into the forests and became considerably rougher. It climbed steeply up and down as we bypassed narrow rugged gorges. There were numerous patches of loose stones and soft sand where winter damage hadn't been repaired. In sheltered corners there were patches of ice and snow. At the highest point of the climb, a path had been cut through a two metre high snow drift which covered the track for about twenty metres.
A Cycle Tour Along the Three Rivers of France




tour started August 2001

,

submitted 5 July 2006




Freda White in her classic travel book on this region said that a visitor to this region of South West France would cry 'Now I know why they say ``la belle France''!. It is truly one of the best parts of France with beautiful rivers, rugged cliffs and gorges, spectacular cliff top castles and more than its fair share of the ``plus beaux villages'' (prettiest villages). It is a region that has been popular with tourists for years and during the peak holiday season from mid July to mid August, the roads, hotels and campgrounds are packed with holiday makers. Avoid this time of the year and you will have quiet roads to pedal along and a wide choice of accommodation.

This is truly one of Europe's best cycling regions.
A Cycle Tour Throuhg Normandy and Brittany




tour started May 2000

,

submitted 5 July 2006




We had eaten breakfast on board the ferry from Portsmouth, but shortly after setting up our tents in the campground in the old citadel at St. Malo, Alan and David walked down to the town to look for a boulangerie to buy bread for another breakfast. They had seen people walking about with fresh baguettes, but after wandering around for some time, they hadn't found the boulangerie. They stopped on a street corner thinking that there had to be one somewhere. They turned around and found that they were actually standing in the doorway of the boulangerie blocking the entrance. Armed with several baguettes, croissants and confiture, they started on their way back to the campground, only to be waylaid by the aroma of freshly brewed coffee from a waterfront café. Eventually they returned to the other members of the group who quickly devoured everything. This pre-occupation with food was to set the tone for this tour through Brittany and Normandy.
Cycling in Picardy, Normandy, Brittany and the Loire Valley




tour started May 1999

,

submitted 5 July 2006




We caught the ferry from Newhaven in southern England to the French port of Dieppe from where we planned on cycling through Normandy. Because of bad weather, the ferry was diverted to Boulogne, 120 kilometres further north. Well that was the official reason given by the captain after we had left Newhaven. One of the crew told us that the real reason was that work on the ferry terminal in Dieppe hadn't been completed so the large hydrofoil ferries which had only started operating the route couldn't berth properly. Most of the people on board were taking advantage of the cheap fares to have a day shopping in France and provided there was a hypermarché nearby, they weren't worried where they ended up. For us on our bicycles, it meant a rethink of our plans.
A trip from Crete (Greece) to Holland.




tour started April 2006

,

submitted 4 July 2006

language: nl




We fietsen vanaf Heraklion een rondje Kreta. Vanaf hier varen we naar de peloponissos, waar we richting Patras fietsen. We gaan naar Italie waar we richting Sicilië fietsen. Via Sardinië en het prachtige Corsica, varen we naar Touloun. Als afsluiter nemen we een paar hoge alpen passen zoals de Galibier. Na 3000 km en 2 maanden nemen we het laastje stukje de trein naar Huis.
Ukraine and Russia: Carpathians to the Volga




tour started May 2006

,

submitted 3 July 2006




A five week tour from the Hungary/Ukraine border from Uzhgorod, Ukraine to Samara, Russia. Two American cycle tourists who speak some Russian travel across much of Ukraine and southern part of European Russia. This was a mostly self-supported trip where we stayed in hotels, but also some visits with friends in Russia.
Via Roma - A bicycle journey from Holland to Italy




tour started July 2001

,

submitted 3 July 2006




I do not believe my eyes. Before us lies a wide, completely flat valley. A late evening sun shines over the valley below. The 2.400 meter high Monti Sibillini rise majestically out of the plains. This is one of the most beautiful valleys I have ever seen.

Willem Hoffmans and I set out from our homes in Holland for a journey to Italy. Through the Vosges, the Jura and across a lot of cols in the French Alps we reach the Italian border. In Italy we make a lot of detours through Liguria, Tuscany, Umbria and Lazio.
Tour around iceland




tour started August 2005

,

submitted 1 July 2006




This tour around Iceland was in August 2005. The idea was to cycle the entire route 1 and not to use public transport. Also to camp every night for free. I suppose it was Iceland on the cheap, and it was total trip cost 425 pounds including everything.
Cycling California--The Do-It-Yourself Way




tour started April 2006

,

submitted 1 July 2006




Ten Days Of Cycling Through The Best Of California: Starting off with an awesome 150-kilometer ride high on the cliffs of America's wildest seacoast--past beaches filled with monstrous elephant seals--I pedaled on around surrealistic 17-Mile Drive and on through the Cannery Row of Steinbeck's novel into the famous resort of Monterey. Next, I soared across vast San Francisco Bay on the Golden Gate Bridge, and on across bike-friendly Marin Country to Point Reyes National Seashore for two nights in a traditional cyclists' hostel. Then came more exciting bike travel, through towering redwood forests beside the Russian River and across the Napa Valley Wine Country to the university town of Davis, famed for its many bicycle paths. Finally, I cycled part way around beautiful Lake Tahoe and ended the trip at the Nevada State Line. My website gives full day-by-day info on how I made the tour;and how to make the same trip yourself, including overnighting at economy lodgings, and where to get maps, when to go, and other helpful literature.
Radtour Toskana




tour started June 2003

,

submitted 29 June 2006

language: de




Bericht über eine organisierte Tour von Florenz nach Siena.
Flüela, Stelvio, Gavia, Bernina, Albula & Co.




tour started July 2003

,

submitted 27 June 2006

language: en, fr, de




Pour changer un peu, mon tour 2003 s'est fait en groupe, avec véhicule d'accompagnement et tout le matériel pour camper. Au programme: de grands et beaux cols.

Zur Abwechslung wurde meine 2003er Tour in einer Gruppe gefahren, mit Begleit-Fahrzeug und Camping-Material. Auf dem Programm: grosse, schöne Pässe.

To change a bit, my tour 2003 was done in a group, with accompanying vehicle and camping stuff. On the programme: high, beautiful passes.
Fietsen in Noord-Griekenland en Wales




tour started May 2006

,

submitted 26 June 2006

language: nl




Verslag van mijn fietstocht in 2005 van de Lon Las Cymry in Wales en in 2006 mijn tocht door de Epirus en Corfu in Griekenland.
Riding the volcano: Haleakela, Maui




tour started 2006

,

submitted 25 June 2006




Seven tips, ride description, and map for a one-day ride from the sea up the mammoth 61-kilometer climb of the Hawaiian volcano Haleakela on Maui. At over 3,000 meters, this climb will take literally into thin air - some planning should be undertaken.
Du Jura au Vercors




tour started June 2004

,

submitted 22 June 2006

language: fr, en, de




Du Jura Suisse au Vercors en passant par le Bugey et le massif de Chartreuse... mais une fin en queue de poisson.
Vom Schweizer Jura zum Vercors über Bugey und Chartreuse Massiv... aber am Schluss ein Abbruch.
From the Swiss Jura over the Bugey and Chartreuse massif towords the Vercors... but the end was unexpected.
La Routavelo (British Columbia)




tour started July 2006

,

submitted 9 June 2006

language: fr




To discover British Columbia with a bicycle is an interesting experience : Mountains, lakes, icefields, wonderful landscape and...bears.
Zürich - Wien




tour started June 2005

,

submitted 3 June 2006

language: fr, de, en




De Zurich à Vienne, ou comment passer 30 cols petits et moyens en une semaine. Avec un peu de chance le tout par beau temps.
Von Zürich nach Wien, oder wie fährt man über 30 kleine und mittlere Pässe in einer Woche. Mit etwas Glück alles bei schönem Wetter.
From Zurich to Vienna or how to ride over 30 small and medium passes in a week. With some luck all the way with nice weather.
Venice to Rome (Venezia a Roma) 2005




tour started September 2005

,

submitted 23 May 2006




A tour from Venice to Rome in bella Italia. We travelled a total of 668 kilometres in seven days, with around 32 hours of cycling time. After a couple of short easy days on the flat, we hit some evil hills and late summer heat as we headed south of Bologna into Tuscany, before finding an easy direct route straight into the heart of Rome and St Mark's at the Vatican.
Michael Stumbles and Jodie Gunns Cycle Touring Website




tour started 2006

,

submitted 15 May 2006




This is a website by Michael Stumbles and Jodie Gunns about our Cycle Touring adventures together. We are Australian and have completed numerous cycle tours throughout Australia. Our biggest tour is 6 months in Europe (start May 2006).
World Biking Africa




tour started June 2006

,

submitted 8 May 2006

Africa

,

Europe

:

France

,

Spain

,

Portugal

,

Morocco

,

Mauritania

,

Senegal

,

Gambia

,

Guinea

,

Guinea

,

Mali

,

BurkinaFaso

,

Ghana

,

Togo

,

Benin

,

Niger

,

Nigeria

,

Cameroon

,

Gabon

,

Kenya

,

Uganda

,

Rwanda

,

Tanzania

,

Malawi

,

Zambia

,

Mozambique

,

Zimbabwe

,

Botswana

,

Namibia

,

SouthAfrica

language: en, fr




A 30,000 kilometer cycling adventure through Africa traversing 30 countries. Tales from the saddle, photos of the people we encounter and places we pass plus detailed information on our bikes and gear.
English Lake District road rides




tour started 2006

,

submitted 6 May 2006




Some road rides in the English Lake District (will be added to). Includes the (in)famous Fred Whitton Challenge route. A demanding ride which takes you through some of the most stunning scenery the Lake District has to offer and includes the major passes of Kirkstone, Honister, Newlands, Whinlatter, Hardknott and Wrynose. If your touring the Lake District try to fit this ride in - it can easily be split into 2 days.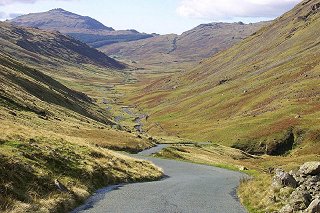 Rock the Casbah




tour started April 2003

,

submitted 6 May 2006




The landscape is completely flat. There is nothing at all, nothing but stones. And sand. Although there is nothing to see, the emptiness has its own beauty. There is a quietness coming over me despite the harsh circumstances. All the problems and possibilities of life seem to dissolve in the infinity of the landscape.

From Marrakech, we have cycled across the Atlas into the Sahara. In two intense weeks we learned to know a bit about the many faces of Moroccan society and we were able to explore the extraordinary Atlas-Sahara region.
2ruote arcobaleno


,

submitted 4 May 2006

language: it, en, de




Stiamo progettando, sperimentando e segnalando percorsi cicloturistici sul territorio trentino, cercando di unire le piste ciclabili e promuovere una mobilità sostenibile da parte dei turisti trentini, italiani e stranieri. Un modo nuovo di conoscere il territorio valorizzando le forme di ospitalità biologiche e sostenibili (quali agriturismi, aziende bio, ecc..) Criteri di costruzione dei percorsi:
i punti di partenza sono raggiungibili in bici, treno o autobus;
i punti di ristoro/pernottamento consigliati saranno in prevalenza le realtà segnalate nella Guida al consumo critico `Fa' la cosa giusta!';
i percorsi sono adatti a cicloturisti, anche non troppo allenati, anche se affrontano alcune salite (inevitabile per il territorio trentino), poichè si sono bilanciate pendenze e distanze. Inoltre è possibile utilizzare il servizio di trasporto pubblico per evitare tratti impegnativi o in caso di stanchezza per completare le tappe;
i percorsi valorizzano la rete delle piste ciclabili del Trentino e le uniscono (con itinerari progettati e sperimentati) in modo da non percorrere strade trafficate, se non per tratti molto brevi. Si snodano anche su strade sterrate, comunque percorribili con biciclette da cicloturismo, attrezzate con borse.
L'altro Nepal




tour started 2002

,

submitted 3 May 2006

language: it




Un viaggio incredibile tra le montagne e l'India, per conoscere veramente l'anima di questo stato, per assaporarne appieno la gente e i meravigliosi paesaggi ogni giorno nuovi.
Radeln wie Gott in Frankreich .... an der von Nevers nach Angers




tour started April 2004

,

submitted 2 May 2006

language: de




Zwei Wochen gemütlichen Entlang der Loire radeln. Kleine Hotels, gutes Essen, nette Dörfer und natürlich viele Schlösser. Dazu ein wildes Fluß wie ich ihn in Europa nicht erwartet hatte.

Unterwegs waren wir meist auf ruhigen Strassen - der Radweg befindet sich noch im Aufbau. Nur bei Tours war der Autoverkehr unangenehm.
From Basel to Vienna (1036 km in 6 days)




tour started September 2003

,

submitted 1 May 2006




My trip began in late September 2003, the company I had been working for had finally done me the favour and folded (August would have been nicer  ) so this gave me the opportunity I was looking for to fulfil a dream and cycle over 1000km.

Like all good things if you want to accomplish something then you need to have a plan. Mine was to take me from Basel, over a couple of Mountain passes & up to the source of the Danube. Then from Donaueschingen following the path of the river riding through cities such as Ulm, Ingolstadt, Regensburg, Passau, Linz, Krems and finally down to Vienna, 1036 km and as it happened 6 days later, a day quicker than I had expected.
Vienna to Istanbul (1800km in 10.5 days)




tour started May 2004

,

submitted 1 May 2006




I can't really remember how we came up with the idea. It wasn't like, 'Hey, let's cycle from Europe to Asia.' It was an accumulation of small and different snippets of information via the Internet, certain other events and I suppose fate, that all slowly came together to give us our planned destination 'ISTANBUL'.

One thing was definite, the good old faithful Blue Danube River played it's usual important role in the idea, which was to safely guide us, not all of the way, but at least a part of it.
Von Wien nach Istanbul Deutsche Fassung, 1760km in 10,5 Tage durch 6 Länder




tour started May 2004

,

submitted 1 May 2006

language: de




Ich kann mich nicht genau erinnern wie wir auf diese Idee gekommen sind. Wir haben nicht einfach gesagt ``warum radeln wir nicht von Europa nach Asien?''. Es war eher eine Ansammlung kleiner und unterschiedlicher Informationen aus dem Internet, verbunden mit anderen Ereignissen und wahrscheinlich auch Schicksal, was uns letztendlich unser Ziel Istanbul gegeben hat.

Eines war sicher, unsere altvertraute Blaue Donau spielte wie immer eine wichtige Rolle. Sie zeigte uns den Weg, und begleitete uns treu fast bis ans Ziel.
Cycling the Elbe from Cuxhaven to Prague




tour started June 2005

,

submitted 1 May 2006




The Idea.

Looking out of the window 10.000 meters up, cruising on a flight from Vienna to Hamburg my attention was caught by a breathtaking view unfolding below me. Stretching for as far as the eye could see was the serene, winding, glistening zigzag path of a River that I immediately fell in love with.

But what was its name? I pulled out the in-flight magazine, turned to the back & started to search for this majestic River. It turned out however that the Captain of our flight beat me to it as he announced our height, the beautiful weather conditions and that our path for the whole flight would be following the 'Elbe'.

Several flights later, along that same route & the river sealed its fate to be conquered! Not from the air though, but by using my own horsepower, cycling.
Santiago and beyond - Cycle trip in search of the heart of Spain




tour started June 2000

,

submitted 25 April 2006




I am hanging around the Cathedral for two hours, just to see the people passing by. Half of the passengers are locals, the others are pilgrims for Santiago. The pilgrims are full of stories about physical endurance, injuries, loneliness, spirituality, will power, faith, love and hope. A young girl thinks of giving up. An old man tells that he has slept on a churchyard because there were no normal facilities anymore. A special experience is meeting an old man who has a tremendous charisma; the man is constantly radiating from a seemingly enormous reservoir of stimulating energy. If it is actually possible to reach enlightenment in the way that Buddhists describe, then this man must have reached that stage.

Account of an eight week cycle journey through east, west, north, central & south Spain.
Blue Skies and Dust Trails




tour started August 2003

,

submitted 25 April 2006




Even in this remote western corner of Bolivia, I feel the impact of the political unrest. There is practically no traffic. In fact traffic is virtually impossible because around La Paz and the other big cities, people have thrown thousands of big stones on the road. I can easily circumvent the stones, cars and trucks cannot. The situation causes me problems as well. There is nearly no food available any more. There are only few villages and nowhere I can obtain anything substantial. I have to do with a few biscuits the whole day.

So far the trouble. Further, The Andes countries have the cyclist a lot to offer. High passes, deserts, rain forests. Add the colourful markets, nice villages and friendly people and you have the complete picture. Ehh.. nearly complete. The food in the poor villages on the Altiplano is occasionally substandard.
The Wheel of Life




tour started August 2005

,

submitted 24 April 2006




``What road? There is no road. Just stones and rocks and rivers flowing over what is supposed to be the road. You cannot cycle there. Still there are some who try.

I do not know how, but they do. But it is impossible.'' An old English traveller tells about the road from Keylong to the Baralacha La. ``But I do not want to discourage you.''

We have cycled six weeks in the Indian Himalayas through Sikh, Hindu and Tibetan Buddhist country. We had to cross some of the highest cols of the world (5.000 m plus) to reach the stunning Ladakh, Nubra, Lahaul & Spiti valleys.
Tour of the Alps 2004




tour started 2004

,

submitted 22 April 2006




While the railway stayed mostly in tunnels, our road wound its way through short tunnels on our way to Flüelen at the end of the lake. It was along these cliffs that William Tell was said to have duped the Austrians, who had taken him captive and were returning by boat to their headquarters when a fierce storm arose.

Now with over 50 images.
Joris en Stella fietsen van Nederland naar China




tour started August 2005

,

submitted 20 April 2006

Europe

,

Asia

:

Holland

,

Belgium

,

France

,

Switzerland

,

Italy

,

Greece

,

Turkey

,

Egypt

,

Jordan

,

Syria

,

Iran

,

Turkmenistan

,

Uzbekistan

,

Tajikistan

,

Kyrgyzstan

,

China

language: nl




Joris en Stella fietsen vanaf augustus 2005 van Nederland richting China. Na een uitstapje door het middenoosten wordt nu de weg naar het oosten voor gezet.
Bicycle Geneva to Milan




tour started August 2005

,

submitted 13 April 2006




Web site for our bike trip from Geneva to Milan. The three of us, Mike, Steve and Dave left from Boston and Denver on July 29th and rode about 275 miles over the next 8 days - with one day off for rain. For the most part, the route was relatively flat, except for two days in the Alps. We crossed the Simplon Pass from Switzerland into Italy - made famous when Napoleon decided it was a good route to invade southern Europe.

We did this as a self-guided trip without escort or SAG. We pre-booked hotels for about half the nights and stayed flexible on routes and destinations for the rest.
Pages: Previous 1-40 &nbsp 41-80 &nbsp 81-120 &nbsp 121-160 &nbsp 161-200 &nbsp 201-240 &nbsp 241-280 &nbsp 281-320 &nbsp 321-360 &nbsp 361-400 &nbsp 401-440 &nbsp 441-480 &nbsp 481-520 &nbsp 521-560 &nbsp 561-600 &nbsp 601-640 &nbsp 641-680 &nbsp 681-720 &nbsp 721-760 &nbsp 761-800 &nbsp 801-840 &nbsp 841-880 &nbsp 881-920 &nbsp 921-960 &nbsp 961-1000 &nbsp 1001-1040 &nbsp 1041-1080 1081-1120 &nbsp 1121-1160 &nbsp 1161-1200 &nbsp 1201-1240 &nbsp 1241-1280 &nbsp 1281-1287 &nbsp Next