This page was last updated Di 04 April 2023.
Contents: Tours (5)
Reports by Chuck Anderson
All descriptions are in English, unless otherwise noted.
Tours
Seattle to San Francisco Bicycle Tour




tour started October 1991

,

submitted 28 January 2006




A number of articles in rec.bicycles and rec.travel about the Oregon Coast inspired me to take my first long distance bicycle tour. I flew to Seattle from Denver on the 10th of July with a plane ticket to return from San Francisco on the 28th. If there was anything that I didn't like about this trip it was that deadline. I felt free except for the schedule I had to keep. This article is a personal narrative about my journey from Seattle to San Francisco following highways 101 and 1 along the Pacific Coast.

Every day is different. If you bring expectations from yesterday into a new day you increase the chance for disappointment and you waste time and energy trying to overcome that disappointment. Everyday unto itself.

This tour changed my life. I had never felt more alive. I left seeking a new way to see the world and I found me.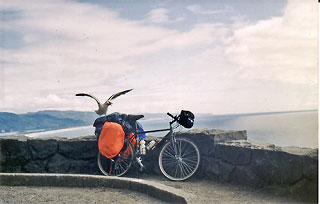 Bicycle Touring on the Danube river in Austria
tour started 1998
The[se pictures are] accompanied by descriptions which give a general idea of what it's like to bicycle in Austria along the Danube River, and into the voralps (the fore-alps). For anyone considering such a ride (the Danube River Trail makes for an easy self-supported tour), I hope these pictures inspire you to follow through with your plan. For those who have been there, I hope it brings back memories. Enjoy.
Dingle Peninsula, Ireland
tour started July 1997
[I rode] a small road near Ballydavid on the northeast tip of Dingle Peninsula in Smerwick Harbor. I was bicycling to a pub there because I'd heard there'd be a session with good craic and without the ever present, suffocating crowds that fill the pubs of Dingle town. In Ballydavid I got to experience a real Irish pub without the usual mob of tourists.
When I got there the place was near empty, but slowly the Ballydavid locals trickled in for some dinner and pints. The four musicians I'd met at O'Flaherty's Pub the night before were jamming away on pipe, whistle, guitar, bodhrain, and mandolin. The evening sun was making framed boxes of light on the floor. Little kids chased a puppy under the tables, around the bar and out the door. A toddler swayed around the floor like a drunken fisherman. Glasses were being lifted and clinked together. You could hear the tap breathing nitrogen and Guinness into pint glasses. The aroma of home cooking swirled about the room. I had brown bread with some lamb stew, with my Guinness, of course.
Cycling the Streets of Rome
tour started May 1997
In early May of 1997 I bicycled from Brindisi to Pompei, and after three days [among] the ruins, I bicycled to Napoli (25km) and took the train to Roma. [...] I [...] began making my way north along the west side of the Villa Borghese, a large, richly wooded park in north central Rome. I rode on park roads and paths as well as main roads and side streets.
Rome traffic was busy, fast and assertive (I wouldn't call it aggressive). The simplest way to explain how to ride in Rome traffic is - follow and mimic the Vespa riders. It is easy to keep up with traffic. As you approach a red light do whatever it takes to get to the front of the line - with all the motorized Vespas. That includes crossing the double yellow line, or riding right on it, in order to pass everyone and get to the front. When the light turns green, sprint across the intersection and fade over to the right so the cars and other traffic can pass you. I never once felt threatened, got honked at, or even noticed an ounce of hostility. It's just fast and assertive. Rome drivers will NOT hit you.
Synchronicity is the Root of Coincidence
Nice pictures but not a lot about bicyles: ``On this summer sunday, after months of travel, I was riding my bicycle through lush, green, central Austrian farm country. The narrow unmarked country roads carried little traffic and provided enough space and quiet for me to stop whenever I wished to play my penny whistle or take pictures of poppy fields. As I was riding along, letting my mind wander across open fields, the steady spinning of my legs and feet, the rotating wheels and the rhythm of my own breath all fused together into a meditative gestalt - with me at the center.''