This page was last updated Mon 28 January 2019.
Contents: Tours (1307) Trails (94) Sites (46) Cycling info pages (146) Organizations and clubs (69)
Pages: Previous 1-40 &nbsp 41-80 &nbsp 81-120 &nbsp 121-160 &nbsp 161-200 &nbsp 201-240 &nbsp 241-280 &nbsp 281-320 &nbsp 321-360 &nbsp 361-400 &nbsp 401-440 &nbsp 441-480 &nbsp 481-520 &nbsp 521-560 &nbsp 561-600 &nbsp 601-640 &nbsp 641-680 &nbsp 681-720 &nbsp 721-760 &nbsp 761-800 &nbsp 801-840 &nbsp 841-880 &nbsp 881-920 &nbsp 921-960 &nbsp 961-1000 &nbsp 1001-1040 &nbsp 1041-1080 &nbsp 1081-1120 &nbsp 1121-1160 &nbsp 1161-1200 &nbsp 1201-1240 &nbsp 1241-1280 &nbsp 1281-1320 &nbsp 1321-1360 &nbsp 1361-1400 &nbsp 1401-1440 &nbsp 1441-1480 1481-1520 &nbsp 1521-1560 &nbsp 1561-1600 &nbsp 1601-1640 &nbsp 1641-1662 &nbsp Next
Europe (local)
This page lists all reports that for Europe only that do not involve other countries.
Click here for a list of all reports involving Europe.
All descriptions are in English, unless otherwise noted.
Sites (continued)
Cicloweb.it: utilità ciclistica e turismo montano
language: it
La bici è un modo per scoprire le meraviglie naturali che arricchiscono le Alpi e l' Appennino, ed è sembrato giusto presentare una finestra abbastanza ampia (in collaborazione con Apt, Pro Loco e Privati) sulle varie località trattate. La parte di utilità ciclistica raccoglie ciò che interessa ad un appassionato: recensioni sulle riviste e sui nuovi prodotti delle aziende che collaboreranno con noi, mercato dell'usato, opinioni, link per i siti delle gare ed altro ancora [...].
[P]roponiamo itinerari per conoscere e visitare i colli ed i monti del Nord Italia. La descrizione degli itinerari trascende le tecnicità dei cicloamatori professionali proprio perché vuole rivolgersi a tutti, come una guida turistica. Ma ovviamente con le note della descrizione e con l'ausilio delle mappe, disponibili ormai per metà degli itinerari proposti, anche i più ``preparati'' possono affrontare l'itinerario con tutte le notizie necessarie.
BiciVeneto
This site offers a wealth of information about cycling in Veneto.
BiciVeneto is a homage to my two greatest passions: bici *(bikes, short for biciclette), and the Veneto region of Italy, my adopted home. It's an apt combination, because contrary to the common perception, all of Italy is not cycling crazy, and there are, in fact, regions where you will not encounter many cyclists at all. The Veneto, on the other hand, is a land of generations-old cycling heritage and traditions, and bicycling in all forms is a way of life. If you ask the Veneti why this is so, they will answer that cycling is a tough sport which demands hard work, stubbornness, and sacrifice, qualities which are an integral part of their character. The Veneto is arguably the most ``cyclistic'' of Italy's 20 regions: There are an estimated 25,000 licensed riders, belonging to several federations (in a population of 4.4 million).
Vagabondo - the independent traveller's site
language: it
Questo sito si rivolge a chi ama organizzare i suoi viaggi per conto proprio, fuori dalle rotte del turismo di massa, senza acquistare ``pacchetti preconfezionati'' da tour operator od agenzie di viaggio.
This site is for those persons who like to plan their travels by themselves, out of the road of mass tourism, not inclined to buy something ready made from big tour operators.
MTB ture
language: si
Trail descriptions, maps and very tempting pictures (see at right) among others.
Kormanyblog
language: hu
Contains a lot of pictures in connection with our cycling and hiking activities.
Reiseberichte
Europe:
Germany
,
Austria
,
Switzerland
,
Liechtenstein
,
CzechRepublic
,
Slovakia
,
Poland
,
Russia
,
Ukraine
,
Belarus
,
Hungary
,
Croatia
,
Serbia
,
Montenegro
,
Bosnia
,
Albania
,
Bulgaria
,
Moldova
,
Turkey
,
Italy
,
Spain
,
Portugal
,
Greece
,
Ireland
,
Belgium
,
Holland
,
Luxembourg
,
France
,
UK
language: de
A massive travel site, this guy has been everywhere.
Hier finden sich einige deutschsprachige Reiseberichte von Fahrradtouren, die hoffentlich unterhaltsam und informativ sind, aber auch vielleicht die eine oder andere Anregung für Leute geben, die selber einmal so etwas machen wollen. Für englischsprachige Radtourenberichte habe ich hier auch einen Anfang gemacht, ebenso für schwedischsprachige Radtourenberichte, wobei noch ein bißchen auf norwegisch und dänisch dabei ist, aber diese drei skaninavischen Sprachen sind so ähnlich, daß man entweder alle drei ein bißchen lesen kann oder eben keine davon.
Cycling info pages
The World of David Duffield, UK Cycling Commentator


,

submitted 2 January 2016




We have brought back the classic web pages dedicated to the genius of the eccentric British cycle commentator David Duffield.

From accounts of Duffield racing his tricycle from John o'Groats to Land's End to stories from his days following the Tour de France and providing daily coverage, you'll find it all here.
Information about E-Bikes in Spain
submitted 23 January 2014
language: es
The only web that is 100% dedicated to e-bikes in Spain. All the information someone needs for e-bikes in Spain.
bicycle exhibition at Vienna's Museum of applied Arts


,

submitted 1 July 2013




We have been riding down to the city - by bicycle of coarse - and received a 5% discount on the entry fee :-) The museum itself has long tradition in Vienna. That's what has been found at the Internet:

The museum of applied arts Vienna has been founded in the year 1863. The building itself has been erected in the years from 1868 until 1871 by Heinrich Ferstel in cooperation with the art historian Rudolf von Eitelberger. At this time the museum bears the name of "k&k Museum für Kunst und Industrie". As it has been the first museum of Vienna's Ringstrasse, the museum has been known as a prototypical of many art museum in Europe. In the years 1875 until 1877 a further wing has been added, which has been as well under the direction of Heinrich Ferstels. At 1907 widened the architect Ludwig Baumann the present complex to a further wing in the style of the Italian Renaissance at the side of the road 'Weisskirchnerstrasse'.

The exhibition has been combined with exhibits from the Italian artist Enzo Mark. The exhibition itself has been a sort of summery of various bicycle collections. Some interesting for me, some not. You may look at the following pictures and judge by yourself. Enjoy the pictures. Good luck to our followers!
11th MTB Hillclimb to Mt Zavizan from 0 to 1594 m


,

submitted 21 May 2013

language: hr




This traditional most popular Croatian amateur MTB race starts this year 2013 on Saturday June 22nd from the port in Senj and from the village Oltari 975 m higher. Finish line is at the mountain refuge Zavizan at 1594 m.
This is a unique opportunity to explore the beauties of the North Velebit National Park in a safe and comfortable way.
Critical mass day Vienna 2012


,

submitted 25 June 2012




A fun tour throughout Vienna. Hello friends, we had fun by participating this event. Even, we didn't follow the dress code 'naked'...

The tour started near Vienna's 'Russian memorial monument' at Schwarzenbergplatz. Took us all the way to the 'belt street' (Gürtel). We hit the old railroad station 'Westbahnhof' and have been riding back to the town center. A fun tour, in order to promote bicycling... Even Vienna's police has been smooth like velvet. I felt like in San Francisco... Enjoy the pictures. Good luck to all our followers!
Vienna's folding bicycle competition 2012


,

submitted 17 June 2012




A fun Tour inside the city of Vienna.

This event has been sponsored by British folding bicycle manufacturer. As Heide has one from this brand, she couldn`t be stopped to participate. Very hot weather conditions made it a very sweaty tour over paved and unpaved roads. Three rounds round the 'Lusthaus' at Vienna's Prater. In total just nine Kilometers... Heide has been recognized as the first women at the arrival. Enjoy the pictures. Good luck to all our followers!
An easy going competition to and on our 'home' mountain Anninger


,

submitted 18 November 2011




I heard about this easy going mountain bike competition. As it has been so nearby to our home, and some bike friends pushed me to participate, I did so... A wonderful ride with the chance to meet a lot of new bike comrades... Enjoy the pictures! Good luck to all our followers!
Grieskirchen bike days 2011


,

submitted 6 August 2011




Every year, we are going to Grieskirchen. All participants from the bike club WHC Voesendorf. All of them retired. Still going strong. Enjoy the pictures! Good luck to all the followers!
Kaindorf Bike Days 2011


,

submitted 2 August 2011

language: de




Every year, we are going to test our shape. All participants from the bike club WHC Voesendorf. All of the retired. Still going strong. Enjoy the pictures! Good luck to all the followers!
Update 2011 - In, out of and through Austria by train taking your own bicycle with you


,

submitted 26 July 2011




Update 2011 - In, out of and through Austria by train taking your own bicycle with you

Rail services of the Austrian national federal railway company OEBB have seriously deteriorated the last few years. There are no direct connections to France, Belgium, Netherlands any more and the rest is a fragment. On domestic connections passengers suffer from delays, overcrowded trains, bad service and all sorts of unpleasant experiences including overcrowded trains cleared by the police.

Most important for tourists with bicycles is that in 2010 most of the trains that still had bicycle capacities were robbed of the luggage van.
IBAS 2011


,

submitted 1 January 2011

language: it




ISLANDA IN MOUNTAIN BIKE? SOLO CON NOI!

IBAS 2011 NOVITA'!

Cari amici appassionati di viaggi in Mountain Bike che avete, come noi di IBAS, quella spinta interiore che fa pensare continuamente all'Islanda, come anticipato il viaggio IBAS 2011 con le Mountain Bike si svolgerà nella seconda metà di Agosto 2011. Le date dovrebbero essere dal 15 agosto al 29 Agosto. La parola ''dovrebbero'' dipende ancora dagli ultimi dettagli che ci devono fornire gli operatori dei voli e sopratutto il traghetto che deve portare i veicoli dell'organizzazione dalla Danimarca all'Islanda. Ma già da ora sappiamo che potrebbero essere aggiustamenti piccoli di uno o al massimo due giorni.

La sorpresa che vogliamo farvi, questo capodanno 2010, è che siamo riusciti a eseguire una economia di scala sulle prenotazioni voli e rifugi che ci permettono ora di proporre un prezzo inimmaginabile per altre organizzazioni, per coloro che riusciranno a prenotare entro il 28 febbraio 2011. Oltre questa data il prezzo salirà, non per colpa nostra, ma per i voli e le prenotazioni dei servizi connessi al viaggio. [...]
Grading Ireland's cycling routes


,

submitted 29 October 2010




Independent assessment of Irish Cycle Touring Routes

Do you want an independent assessment of Ireland's Official Cycling Routes? If you do read on. My name is John Walshe and I have decided to cycle them all. According to the Failte Ireland website we have about 79 cycling routes in the Republic of Ireland which came as news to me when I happened upon that claim earlier on this year (2010). Since then I have been cycling them one by one and I have uploaded my report on each route onto my web page.

Some of them are o.k. but most of them are dreadful. I intend to assess each and every one of them. I am cycling them solely from the viewpoint of a touring cyclist i.e. the kind of person who uses his holidays to cycle bringing with him all his luggage, tent etc. on the bike. As I cycle these routes I also bring along with me a theoretical nine years old daughter and an equally theoretical 10 years old son. This is the standard test that is used internationally. Would you let your two kids cycle this route? If the answer is 'yes' then the route qualifies all things considered. If the answer is 'no it's too dangerous' then the route does not qualify. It's as simple as that. Of course scenery has to be factored in and the degree of difficulty. [...]
Cycling Languedoc


,

submitted 24 October 2010




A site made for people who are thinking about cycling in sunny Languedoc, France. There are many great cycle routes of all lengths, as well as useful information on what it is like to ride in Languedoc.

Each route page has a Google Map, route description, directions, and photos. Routes can be searched by region, difficulty or distance.
Hiking to the 'Trefflinfall' - Lower Austria


,

submitted 12 August 2010




Beside bicycling, we tried a hike, which is not so far from our home... Destination: 'Trefflingfall' located in Lower Austria. Reachable via train 'Mariazellerbahn' (a 'narrow rails track' train)or by car, following the Hwy 39 from St.Poelten on. Passing little towns like Obergrafendorf, Kirchberg, Loich, Winterbach. Right in the middle of the village 'Puchenstuben' one has turn right a downhill road to the 'Trefflingfall'. A sort of hidden place. Safe to go. A lot of safety ropes surrounds the hiking path down to the river fall. Worth to go! Enjoy the pictures! Good luck to all the followers!
Welcome to the Snow bord Tour at Corvara (Sella Ronda)


,

submitted 12 August 2010




Corvara, has been the starting point of several 'Maratona dles Dolomites', I have been participating. We said: we do the Sella Ronda in winter. On Snow board. The tour takes just 4 hours (if you are lucky on queues before the lifts...).

Worth to see the little city of Arabba, just before the Porte Vescovo. We made a side trip to the Marmolada (there are two ways of correct spelling: Marmolada and Marmolata - one is in local language 'ladinisch'). Enjoy the pictures! Good luck to all the followers!
8th MTB Hillclimb to Mt Zavizan from 0 to 1594 m


,

submitted 8 February 2010




This year the event shall start on Saturday June 19th from Senj www.senj.hr in Croatia. All information shall be kept at the website of the Tourist Office www.tz-senj.hr or can be obtained from malojcic@yahoo.com .

Last year event can be seen at: http://www.youtube.com/watch?v=P1kg3A9EM_4

Everybody welcome!
Nordic-Quest 24


,

submitted 27 November 2008




These will be the longest single stage mountainbike races in Europe.

Teams have 24 hours to complete 250km courses.
Cycling before Lycra


,

submitted 6 October 2008




A collection of photographs and anecdotes from my father on cycling in the late 1930's and 1940's. Racing, touring, pass-storming, you name it, they did it - usually on fixed gear, and wearing corduroy shorts - ouch! No chamois leather for these boys.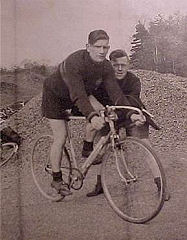 Driving your bicycle in Albania


,

submitted 9 June 2008




In May, 2008, I spent two weeks in Albania. First week I stayed in the city of Vlora, during the second one I crossed the country from Ionian sea coast to the Greek border near the Prespa lake. All this gave me an opportunity to acquire my own experience in cycling in Albania, which I would like to share in this short review.

Contents: roads, maps, drivers, city driving, bicycles and parts, communicating with people.
Anniesland to Ratho Charity Bike Ride


,

submitted 12 November 2007




Pancanal is the website for the annual Anniesland (Glasgow) to Ratho (Edinburgh) bike ride. It follows the Forth and Clyde canal to Falkirk then the Union Canal to Ratho.

This cycle is in memory of Robin Wilkie who was diagnosed with pancreatic cancer in February 2005. All sponsorship raised from this cycle go directly to the Pancreatic Cancer Research Fund.
Castelli della Loira in bici, versione famiglie


,

submitted 13 September 2007

language: it




Tour dei castelli della Loira in bici, percorso abbreviato adatto alle famiglie.
Durata: 7 giorni.
Tappe: Tours, Villandry, Chenonceaux, Amboise, Blois, Cheverny, St.Dye, Chambord.
Suggerimenti anche per altri tour: tour dei Castelli Romani, dei castelli medievali del Casentino, dei castelli del Trentino, dei castelli della Scozia.

Grazie anche a girolibero.it per i consigli.
SPANISH CYCLEPATHS: Information about cycle touring in Spain


,

submitted 21 May 2007




A website dedicated to providing in-depth information about cycle touring in Spain. Great ideas for tours, weekends away and places to go; useful links to get you there and get you around, as well as a travelogue and picture gallery to tempt you to get on your bike and go!
Cycling in Poland


,

submitted 15 April 2007




Have a look at this fantastic site and plan your first really exciting cycling holiday in amazing and surprising Poland. Here you will find practical information about roads, health and safety, money, threats and much more.
Mount Zavizan Climb 0 - 1598 m


,

submitted 7 June 2006

language: hr




Since 2003 in the second half of June a race is beeing organized by the Senj Mountain Bike Club which starts from the village Sv. Juraj near Senj at the sea level and ends at the mountain hut Zavizan 1568 m above. Trek is 33 km long and is graphically represented on the web page. About half of it goes on a paved road and another half on unpaved road through the forest which belongs to the North Velebit National Park. Participation for less trained cyclists is facilitated by the second start at 1000 m from the village Oltari. Traditional evening reunion of participants takes place in Sv. Juraj harbour restaurant after the race. The event is a good introduction to the beauties of cycling in mount Velebit forests. Accomodation for foreign visitors is provided through http://www.tz-senj.hr.
A useful website page for cyclists coming to the quiet roads of the Alps Maritimes, inland from the busy Cote D'Azur, France.


,

submitted 10 April 2006




This website gives information for on and off road cycling in the Alpes Maritimes inland from the busy roads of the Cote D'Azur.
Detailed descriptions of on and off road cycles, including height graphs and distances.
Photo gallery.
General information about the area - market days, restaurant phone numbers etc.
Information about cycle friendly accommodation with a shopping service to save cyclists carrying heavy shopping on bicycles when coming to an area devoid of shops. There are cycle tools, a lockable garage, all maps are provided, washing machine available.
DBS Viking Tour


,

submitted 9 January 2006

language: en, fi, no, de




The World's most beautiful cycling tour. July 23rd - 28th 2006. Geiranger, Trollstigen, Sognefjord, Jotunheimen, Nærøyfjord...

The Viking Tour takes you everywhere! Six days, eight fjords and nine mountain passes shared with 230 cyclo-tourists and former Tour de France competitors. Great international atmosphere and informal Fjordland hospitality dearly welcome all cyclists whatever goal they have for the tour. Competition classes are only timed for parts of each stage, giving everyone a much appreciated chance to ride with people normally at the other end of the ``peloton.'' No time limits. Our welcoming you at the stage finish only gets warmer the later you arrive. You can choose to stay in the Valhall Camps which include simple breakfasts, showers and some places pools & sauna. Or you can rent your own room, share a cabin with friends, bring a camper-van or...

The organizer Re Cyling Club provides luggage transport, feeding stations, bicyle repair service, first aid and everything needed for you to focus enjoy the experience. The cycling- and social thrills are unlimited. Available starting places are not...
Bicycle touring in Tuscany


,

submitted 28 December 2005




David has written a book on bicycle touring in Tuscany. The site offers many useful links for Italy in general, Tuscany, Umbria, Marches, and Lazio, and miscellaneous travel sites; as well as a picture gallery.
How to travel with your bike on trains in Germany, Austria, and the Czech Republic


,

submitted 7 November 2005




A Web site devoted to the challenges of getting you and your bicycle on a train and to your destination in Germany, Austria, and the Czech Republic. Specific ``how-tos,'' detailed photos, hints and tips, useful links, etc.
Viking Tour 2006 - Noorwegen - 23/07/2006 - 28/07/2006


,

submitted 1 November 2005

language: no




's Werelds mooiste fietstocht

Zesdaagse cyclosportieve en recreatieve tocht toegankelijk voor wielertoeristen en zij die willen wedijveren met ex-profs. Ontdek Geiranger, Trollstigen, Jotunheimen, Peak Road, Sognefjorden, Vikafjell, Eagles Road, Dalsnibba... 600 km en 11000 m hoogteverschil vanuit Aurland tot Åndalsnes. Een unieke kans om kennis te maken met een exclusieve meerdaagse tocht waarbij de wegen verrijzen uit de Atlantische Oceaan en klimmen tot de pieken in de wolken van West-Noorwegen. De etappes zijn voorzien van gechronometreerde zones, waarvan een klassement word opgemaakt, maar u kan ook gewoon recreatief deelnemen zonder tijdsopname. U fiets 'Touring Class' of voor de dames 'Ladies Class' naast de 'Competition Class' netjes in vijf leeftijdscategorien bij de mannen en de vrouwen onderverdeeld. De organisatie ``Re sykkelklubb & DBS Viking Tour'' zorgt voor transporten van bagage en bevoorrading zones zodat u zich kan focussen op de bergpassen, de fjorden, de watervallen, de gletsersn en de meren.
Pages: Previous 1-40 &nbsp 41-80 &nbsp 81-120 &nbsp 121-160 &nbsp 161-200 &nbsp 201-240 &nbsp 241-280 &nbsp 281-320 &nbsp 321-360 &nbsp 361-400 &nbsp 401-440 &nbsp 441-480 &nbsp 481-520 &nbsp 521-560 &nbsp 561-600 &nbsp 601-640 &nbsp 641-680 &nbsp 681-720 &nbsp 721-760 &nbsp 761-800 &nbsp 801-840 &nbsp 841-880 &nbsp 881-920 &nbsp 921-960 &nbsp 961-1000 &nbsp 1001-1040 &nbsp 1041-1080 &nbsp 1081-1120 &nbsp 1121-1160 &nbsp 1161-1200 &nbsp 1201-1240 &nbsp 1241-1280 &nbsp 1281-1320 &nbsp 1321-1360 &nbsp 1361-1400 &nbsp 1401-1440 &nbsp 1441-1480 1481-1520 &nbsp 1521-1560 &nbsp 1561-1600 &nbsp 1601-1640 &nbsp 1641-1662 &nbsp Next