This page was last updated Mon 17 June 2019.
Pages most recently added
Contents: Tours (1148) Trails (37) Sites (3) Cycling info pages (44) Organizations and clubs (8) Nongeographical bicycling information (16)
Pages: Previous 1-40 &nbsp 41-80 &nbsp 81-120 &nbsp 121-160 &nbsp 161-200 &nbsp 201-240 &nbsp 241-280 &nbsp 281-320 &nbsp 321-360 &nbsp 361-400 &nbsp 401-440 &nbsp 441-480 &nbsp 481-520 &nbsp 521-560 &nbsp 561-600 &nbsp 601-640 &nbsp 641-680 &nbsp 681-720 721-760 &nbsp 761-800 &nbsp 801-840 &nbsp 841-880 &nbsp 881-920 &nbsp 921-960 &nbsp 961-1000 &nbsp 1001-1040 &nbsp 1041-1080 &nbsp 1081-1120 &nbsp 1121-1160 &nbsp 1161-1200 &nbsp 1201-1240 &nbsp 1241-1256 &nbsp Next
Tours (continued)
Mantova-Parigi in bicicletta




tour started July 2003

,

submitted 2 February 2009

language: it




Il diario del mio primo viaggio cicloturistico (da Mantova a Parigi in 12 giorni in campeggio) dalla preparazione fino alla realizzazione. Oltre al diario è disponibile una mappa interattiva contenente tutte le informazioni riguardanti distanze, sistemazioni ecc. Il diario risale al 2003 ma credo che possa comunque essere utile sosprttutto a chi si avvicina per la prima volta al cicloturismo e come me deve superare tutti i piccoli scogli derivanti dalla mancanza di esperienza.
Velotraum, Ruth's und Horst's Radabenteuer von Inuvik nach Ushuaia




tour started June 2005

,

submitted 22 January 2009

America

:

Canada

,

USA

,

Mexico

,

Guatemala

,

ElSalvador

,

Honduras

,

Nicaragua

,

CostaRica

,

Panama

,

Colombia

,

Ecuador

,

Peru

,

Bolivia

,

Chile

,

Argentina

language: de




Ruth und ich (Horst) fuhren mit dem Fahrrad von Inuvik, nördlichster im Sommer anzufahrender Punkt in Nordwestkanada bis zum südlichsten anzufahrenden Punkt im argentinischen Feuerland, Ushuaia. Wir waren 22 Monate unterwegs, legten 29'100 Kilometer mit dem Rad zurück, fuhren 280'000 Meter in die Höhe, obwohl wir durchschnittlich genau nur jeden 2. Tag im Sattel sassen. Das nur für die Statistiker, Weiteres auf unserer Website.
Wintering in the Middle East




tour started January 2009

,

submitted 19 January 2009




Early in the morning, when assembling the bike I couldn't tighten the right pedal all the way into the crank. I took a closer look and discovered few scraps of aluminum in the crank thread. Oh my God! I ruined the crank! It seemed the tour was over before it begun.
Two week bicycle tour of Uganda




tour started November 2007

,

submitted 17 January 2009




In January of 1999 Eric spent two weeks on a self-supported bicycle tour with five other people in Uganda. This is his story.
Two week bicycle tour of Cameroon




tour started November 2007

,

submitted 17 January 2009




In November 2007 we joined David Mozer (founder of Bicycle Africa) and Il Kim (professional student) on a two week bicycle tour through Southwest/Western Cameroon. We encountered steep climbs, exhilarating descents, some brutal roads, and many people calling out, ``du courage!'' throughout the course of the day. We hope you enjoy our journey - we sure did!
Two week bicycle tour of Benin and Togo




tour started December 2008

,

submitted 17 January 2009




In December 2008 Eric rejoined David Mozer (of ibike.org fame), Il Kim (professional student) and other intrepid travellers for two weeks of cycling in the small West African countries of Benin and Togo.
Austrian Danube Bike Trail




tour started May 2008

,

submitted 13 January 2009




This was the first European bike tour I did after researching numerous alternatives. It begins in Vienna, goes to Regensberg, Germany and ends in Vienna. It was such an awesome experience that I have done two more since.

We packed our stuff in the panniers, stored our suitcases in a loft of the bike shop and hit the road. There is nothing like the feeling of leaving all your possessions behind except what you have on your bike, and striking out on a trip in a foreign country where you don't know the language, don't know a soul, and don't really care when you get back... It was finally lights out and I laid back in bed and it was such a surreal experience. Here I was on a night train to Munich, Germany, listening to the wind blow through the opened window, the clacking of the wheels on the track and the occasional squeal of the brakes as we pulled into the next station. Kinda like something out of an Agatha Christie novel.
Great Divide Mountain Bike Route




tour started July 2008

,

submitted 7 January 2009

language: fr




A trip from Calgary to Denver.

This summer I had the chance to ride a (big) part of the `Great Divide Mountain Bike Route'. An itinerary suggested by Adventure Cycling Association (Sections 1, 2 and 3).

This road goes to the United States from the North to the South follows the Continental Divide and takes more than 80% of gravel and dirt road.
Bicycletour in the Alps with legendary climbs: Mt Ventoux, Bonette, Agnello, Passo Mortirolo, Passo Stelvio, etc.




tour started July 2008

,

submitted 6 January 2009




In 2008 I cycled 1807 kms and 32199 m height difference in the Alps. I climbed the 3 ascents of Mt Ventoux in a day, had a nice tour in Provence and at the Riviera. I had huge memories: riding my bicycle from the sealevel to the 2802m high Cime de la Bonette that I reached in the evening.

I had a dangerous descent in the rain from Col d'Izoard. Also climbed Colle Agnello (top in fog), and another fantastic day with an italian guy, Mauro Repetti as we did the Trittico Mortirolo : 3 ascent in 1 day. The last serious ``task'' was Passo Stelvio (2760m) from Tirano.
ciclabile costa del mare baltico (da Wanermunde a Usedom)




tour started July 2008

,

submitted 5 January 2009

language: it




Quando la ruota della bici si arresta sul bagnasciuga del mare, i sentimenti assumono due caratteristiche:

quella che rimanda al riposo e al benessere che il mare si presume possa dare, ma anche quella di partire, oltrepassare il confine visivo dell'orizzonte. Anche se i pensieri scivolano oltre, il bagnasciuga arresta la corsa dell'improprio mezzo e l'orizzonte rimane un insuperabile confine imposto.
Cycling in France's Loire Valley - Paris to Chenonceau




tour started September 2008

,

submitted 5 January 2009




This is a photo diary of a bike trip in September, 2008 from Paris, France to Blois and Chenonceau in the Loire Region of France. It also includes a description of cycling out of Charles de Gaulle Airport.
Tour of the Alps 2008




tour started 2008

,

submitted 3 January 2009




The goal this Summer was to make sure I have climbed every asphalted (at least one side) pass throughout the whole of the Alps above 1700m (which I have detailed in a list at the cycloclimbing.com site). I also wanted to include some difficult roads that are not passes.

(Length: 4916.7 km for 29 days = 170 km/day; Height metres climbed: 105454 m for 29 days = 3636m/day.)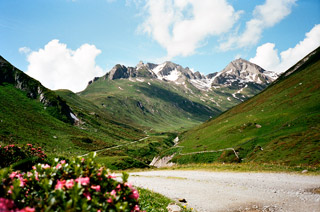 Tip to Temple




tour started January 2009

,

submitted 2 January 2009




In January of 2009, two dudes will embark on a 4000-mile adventure through the country of Chile. Their Journey will start in Ushuaia, Argentina, the southernmost city in the world. As they push northward, they will encounter brutal winds, pounding rains and the driest of deserts. In the rainy South, glaciers will send shivers down their spines and remind them of the powers of nature. The dry North will bring scorching sun that will melt their minds and offer teachings of survival. They will end high in the Amazon where they will ride through the Andes, the second highest mountain range in the world. There they will visit the location where an ancient civilization once stood, and today only whispers of ghosts can be heard from the crumbling stones...
Tandeming 'round the world' 09




tour started December 2008

,

submitted 29 December 2008

Europe

,

America

,

Australia

,

Asia

:

Mexico

,

Guatemala

,

Honduras

,

Nicaragua

,

CostaRica

,

Panama

,

Ecuador

,

Peru

,

Bolivia

,

Argentina

,

Chile

,

NewZealand

,

Australia

,

Indonesia

,

Malaysia

,

Singapore

,

Thailand

,

USA

,

Cambodia

,

Laos

,

Vietnam

,

China

,

Germany

,

CzechRepublic

,

Croatia

,

Bosnia

,

Italy

,

Spain




We are entering our fourth year on our tandem adventure 'round the world'. We have visited Mexico, Central & South America, New Zeland, Australia, South East Asia, China, and Europe. We are now wintering over on the Costa Del Sol, Spain. Off to Morocco in Feb. 09 then back into Europe for 09.
Growing list of rides around Languedoc, France.




tour started 2008

,

submitted 25 December 2008




This is a blog mainly about short rides in the south of France, mostly Languedoc. Each entry has a short description of the ride, pictures, and a Google Map at the bottom, outlining the route. I do have a few longer trips in there as well, with more coming as I get out on the road and do them!
Bike and Build NUS 2009




tour started June 2009

,

submitted 23 December 2008




My name is Ally Katch, and in the summer of 2009 I will ride 4000 miles across North America to raise money and awareness for affordable housing. I, along with 33 other men and women, will need to raise $4000 for the affordable housing cause. Then, in June, we will set off from Portsmouth, New Hampshire, USA for the summer of a lifetime with an organization called Bike and Build.

Over the course of about 10 weeks, we will bicycle 4000 miles and spend several days at affordable housing build sites with such organizations as Habitat for Humanity to help construct housing for people in need. You can learn more about my ride at my website, , or you can track our progress (starting 18 June, 2009) on my blog at .
Ruta de la Seda Solidaria




tour started March 2009

,

submitted 21 December 2008

language: es, en




Comenzaremos esta aventura a principios de primavera del 2009, partiendo desde Asturias hacia Estambul (Turquia). Desde Turquia seguiremos la Ruta de la Seda hasta Xi-an (China). Desde China continuaremos nuestro viaje hacia Lhasa, cruzaremos la cordillera del Himalaya terminando en Katmandú (Nepal).

Podras seguirnos en nuestro blog www.rutadelasedasolidaria.blogspot.com
Ice Princess 1963 - The Big Freeze of 1963




tour started 1963

,

submitted 18 December 2008




The winter of 1963 brought the longest cold spell to central Europe in a many years, freezing the landscape deeper than it had in 100 years. Realizing that such weather probably would not occur again in my lifetime, if ever, I decided to do more than read about frozen lakes and deep frost [...] The ice was glassy smooth here [in Zürich], the sun and warmth from the city having melted the surface during the warmest part of the day. I walked down onto the lake and mounted my bicycle carefully. From having ridden on snow packed streets, I was aware that the best gear was the highest (50-13) to prevent undesired wheelspin that could dump me onto the ice. Traction would have been even poorer had it not been -20 Celsius.
Tour of the Alps 2008




tour started July 2008

,

submitted 16 December 2008




Stelvio summit with Valle di Trafoi background. Weather in the picture was typically cool with constant chance of rain and snow. It was a cold summer.
Tour of the Alps 2007




tour started July 2007

,

submitted 16 December 2008




Ibach - Rosenlaui - Hospental - Biella - Ivrea - Tenda - St. Etienne - Arvieux - Lanslebourg - Bourg St. Maurice - Lavachey - Brig-Ried - Bignasco - Thusis - Brusio - Stelvio - Astfeld - Marebbe - Brixen - Landeck - Urnerboden - Alpnachstadt - Brunnen
Ciclabile Berlino-Copenaghen (fino Warnemunde)




tour started July 2008

,

submitted 16 December 2008

language: it




Certamente non si può dire che l'odierno stato di salute del mondo, malato di rumore, sia alla ricerca di silenzio.

Se per Pascal "il silenzio è la massima delle persecuzioni", non sono pochi i medici che consigliano l'assenza di rumore come antidoto alla vita moderna. Grazie al silenzio irrompono nella mente salutari rumori. Il silenzio non è solo assenza di rumore è un "altrove" e può diventare "l'acustica dell'anima" (Novalis).

La bicicletta irrompe nella natura con la voce del silenzio. In questo itinerario di 400 chilometri (primo tratto del più lungo Berlino-Copenaghen), si può capire che quanto precedentemente asserito non è da considerare un'ingannevole retorica. Qui il silenzio ci abita regalmente nelle innumerevoli stanze di uno Schloss (castello) che si chiama natura. Il silenzio non parla, non scrive e non compone musica. Eppure si fa sentire. Una bicicletta può bastare per ascoltarlo.
Cycling the South Island of New Zealand




tour started February 2004

,

submitted 14 December 2008




I have a confession to make. There are times when I enjoy planning our trips as much as taking them. There is a certain excitement to putting a magic marker on a map knowing that you will be following that zig zag line on your bike. Could it be that the planning process heightens the anticipation of the trip? Is it the beginning of the adrenaline rush? And if it was adrenaline that we were looking for, then why not go to the adrenaline capital of the world, New Zealand!

The tour would begin in Wellington at the southern tip of the North Island. We would take a ferry ride across Cook Sound to Picton. From there we would make our way to the coast and bike along side the Tasman Sea to Haast. At Haast we would turn inland to Lake Wanaka and Queenstown. After taking a week off from biking to hike the Milford Trek, it would be back across the island to the Pacific Ocean and Dunedin. Our trip would end in Dunedin where we take the bus to Christchurch and then the train back to Picton.
europa tour




tour started April 2008

,

submitted 10 December 2008

Europe

:

France

,

Belgium

,

Germany

,

Denmark

,

Norway

,

Finland

,

Sweden

,

Estonia

,

Latvia

,

Lithuania

,

Poland

,

Slovakia

,

Hungary

,

Romania

,

Bulgaria

,

Turkey

,

Greece

,

Albania

,

Montenegro

,

Serbia

,

Slovenia

,

Croatia

,

Italy

language: en, fr




www.velopourvous.com est le site de l'association ``Vélo pour nous, vélo pour vous'', qui à pour but de promouvoir la pratique du vélo.

Entre autres, il raconte les voyages en vélo de ses adhèrents, et pas seulement...

Une grande partie est dédié au voyage de Claudia et Thomas autour d'Europe. Leur but est de faire un inventaire de la culture du vélo en Europe. Des jolis photos et un impressionant carnet de bord vous attend à les découvrir...
Marriage in Tallinn and separation in Riga.




tour started July 2008

,

submitted 7 December 2008




After having attended a marriage party in Tallinn my wife and I cycled on to Riga, where we split up. In spite of the flat landscape in Estonia and Latvia the cycle tour was not uneventful.
Vom Reschenpaß zum Gardasee




tour started September 2008

,

submitted 30 November 2008

language: de




Mit dem Rad unterwegs während der Apfelernte im schönen Etschtal

Von Meran in die Radmetrole Bozen, dann 'rüber zum Gardasee.

Bei Traumwetter ließen wir uns über den See schippern.

Die Abschlußetappe führte uns noch nach Brescia.
North Atlantic Drift




tour started July 2008

,

submitted 27 November 2008




A boat based tour of the North Atlantic involving bad roads, strong winds and some freakishly hot temperatures.
Cammino di Santiago




tour started August 2008

,

submitted 26 November 2008

language: it




Un cicloviaggio praticamente indimenticabile, 12 tappe da Saint Jean Pied de Port a Santiago de Compostela, passando per i monti della Navarra e i vitigni della Rioja, attraversando le immense distese delle mesetas tra Burgos e Leon, salendo in alto verso la Cruz de Hierro e il Cebreiro per ridiscendere infine verso i boschi e i saliscendi della Galizia. Il racconto di un viaggio di 850 km lungo le strade del mitico Cammino di Santiago!!!
Cycling in France - Paris, Burgundy, Alsace and Provence




tour started September 2008

,

submitted 23 November 2008




Our 2008 cycling trip gave us a taste of France. We cycled in Paris, Burgundy, Alsace and Provence. We loved French bakeries and cake shops. This has had some not so good side effects - we came back with extra weight! And that's in spite of cycling over 1000km.
If you are planning a similar cycling tour you will find a lot of useful information in our trip Itinerary and day-by-day Trip Report. If you would like to see the beauty of cycling in France do not miss the Best Photos & Videos. You may also be interested in our recommendations for the best places to see, stay and eat in Top 5. If you have any questions or comments please write to us. Enjoy and have a great time on your virtual bicycle tour!
Glen and Margaret
Auvergne (France) 2008




tour started August 2008

,

submitted 22 November 2008




This eight day trip around the volcanic region of Auvergne in the centre of France took us through some surprising ladscapes, nice valleys and some challenging passes (at least challenging for us). On our site you will find the description of our itinerary and brief notes on what we saw with some potentially useful tips for housing.
Granny Gear




tour started November 2008

,

submitted 19 November 2008




The idea of freedom and not working is appealing to everyone. Tanya and I have quit our jobs and have left the country (our home, Canada) for a year. We are going to be riding our bicycles through many countries. Moving along at a slow pace, emerging ourselves in the culture. The only goal is to have a good time, not deal with schedules, or due dates and see a part of the world that has always intrigued us.

This is the journal of our travels.
Western Desert: Washington State to Kansas State in the USA




tour started May 2008

,

submitted 15 November 2008




This cycle journal describes my trip from eastern Washington state, through the central basin area of Oregon, across Nevada, Utah, Colorado, and Kansas to the Missouri border. Most of this route follows the Adventure Cycling Association Western Express route, famous for it's long distances between towns, food, or water. However, the less traveled central basin of Oregon presents even more challenges requiring careful planning.
Chile, Castro to Villarrica




tour started January 2008

,

submitted 13 November 2008




We took a five week trip to Chile. About four of the weeks we spent of our bikes, taking our time and having fun. It was a great trip but in hindsight I would recommend a more mountain like bike. We used Lemond Poprad cyclocross bikes. The wheels it turned out were especially not ready for the rough terrain with the touring weight.
Bike - Thailand




tour started 2008

,

submitted 9 November 2008




People often ask why with budget airlines making travel so inexpensive I still plan on making a bike trip to Thailand. They say the journey may be physically demanding at my age (56) and dangerous as I would ride from Tumpat, Kelantan Malaysia right into the three hot spots in southern Thailand.

The southernmost provinces of Narathiwat, Yala and Pattani have been terrorized by regular attacks since early 2004, when a separatist movement flared after a lull of more than two decades.

Attacks generally take the form of drive-by shootings and small-scale bombings intended to frighten Buddhist residents into leaving the area. Suspected insurgents mainly target people seen as collaborating with the government, including soldiers, police, informants and civilians.
Newfoundland's Avalon Peninsula by Bicycle




tour started August 2008

,

submitted 5 November 2008




A complete circuit of Newfoundland's beautiful Avalon Peninsula. Six days and 778 kilometers through rain, drizzle, fog, thunder, lightening and even some sunshine. With maps and elevation graphs.
All round Switzerland




tour started August 2008

,

submitted 21 October 2008

language: en, nl, de




From 28 August to 08 September 2008 I surrounded Switzerland.

A varied tour of flat country side to hills and Alpine passes.
Rhodos




tour started May 2007

,

submitted 19 October 2008

language: de




A relaxed trip on the Greek island named Rhodos.
France Again: A short tour in Burgundy




tour started August 2008

,

submitted 18 October 2008




Burgundy is a great place for cycling: whether your tour is to be short or long, flat or hilly, with emphasis on nature or architecture - in Burgundy you have your choice. For part of our short visit we followed bike paths following the Canal de Bourgogne and Canal du Nirvenais, otherwise we cycled on small roads with almost no traffic through pleasant, but hilly, countryside. We visited Auxerre, Tonnerre, Avallon, Pontigny, Semur-en-Auxois ...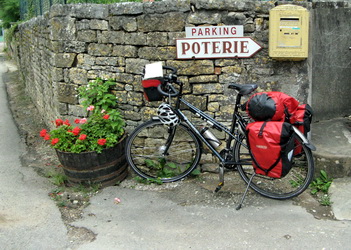 Electric Bicycle World Tour




tour started May 2009

,

submitted 18 October 2008

language: en, es, cat, ch




An experience never attempted before by one person on an electric bicycle - an alternative form of personal transportation highlighting the use of cleaner energy sources and living with less reliance on traditional combustion energy.

Touring the world in an eco-friendly way, to promote and encourage the development of a global culture of energy conservation and waste reduction.

In collaboration with an NGO whose focus is on international environmental projects, a `one kilometre - one hope' sponsorship program will allow individuals to show their solidarity and become part of the tour.

A global adventure on an electric bicycle through 5 continents via two Olympic and a candidate city: Beijing, London and Madrid.
Soll ich treten oder nicht? Mit drei Fahrraedern, zwei Anhaengern und Kindern von Zurich zum Atlantik




tour started July 2008

,

submitted 16 October 2008

language: de




I ve actually done quite a number of bike-trips myself. It was always a pleasure to be out in the nowhere for longer period of time just moving forward on two wheels.

Finally, after a longer period of absence from travelling I could free two months again. This time the challenge was to find a way of cycling with the entire family, with Juri (4) and Lenya (1), and my wife Angela of course. Thanks to the great Swiss invention of follow-me tandem we could attach Juris bike and de-tach it from time to time if traffic allowed. The bigger challenge was to find enough storage for our luggage which lead to the ``convoi exceptionnell'': two trailers in row behind my bike.

If you want so see how that worked out on the way from Zurich to the French Atlantic, read this live-blog written during the tour on my mobile phone (German). There are plenty of pictures of course as well.
Pages: Previous 1-40 &nbsp 41-80 &nbsp 81-120 &nbsp 121-160 &nbsp 161-200 &nbsp 201-240 &nbsp 241-280 &nbsp 281-320 &nbsp 321-360 &nbsp 361-400 &nbsp 401-440 &nbsp 441-480 &nbsp 481-520 &nbsp 521-560 &nbsp 561-600 &nbsp 601-640 &nbsp 641-680 &nbsp 681-720 721-760 &nbsp 761-800 &nbsp 801-840 &nbsp 841-880 &nbsp 881-920 &nbsp 921-960 &nbsp 961-1000 &nbsp 1001-1040 &nbsp 1041-1080 &nbsp 1081-1120 &nbsp 1121-1160 &nbsp 1161-1200 &nbsp 1201-1240 &nbsp 1241-1256 &nbsp Next